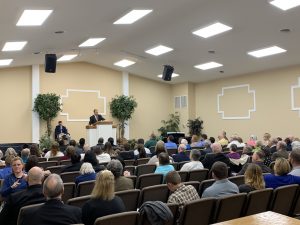 Grace Baptist Church began September 23, 2012. God, through a series of events, allowed us to start Grace Baptist Church in a local hotel conference room. God's people organized and asked Dr. Craig Bush to pastor them.
We are now currently meeting at 4272 Charles Town Road, Kearneysville, WV, just down the road from the Veterans Hospital in Martinsburg, WV. In the first 6 months, our church had a 50% growth in average attendance and a big day of 193.
The spirit at Grace is exceptional. We have a spirit of revival! The music is old-fashioned and exciting, our people are friendly, and God's hand is on our church. The preaching is old-fashioned out of the King James Bible only. We have first-class nursery facilities and Sunday school for all ages. Our services are exciting as we see lives and eternities being changed regularly.
We purchased 4 acres of land and built a 6,000 square foot building "by faith." We did not raise a bunch of money, we just kept building as God provided. We stayed after obeying God and believed if we did our part, God would do what we cannot do. AND HE DID!
We hope you give Grace a try. It is a great place for families or singles to come. It is an old-fashioned Baptist church where God has chosen to make His presence real. We believe it is the place for you.